About CANADOG
What drives us?
The love of all things dog and dog powered drives us. Setting standards and goals, achieving them, then raising the bar once more.
Who Are We?
We are Rob & Shelley, Mac, Jamie and Gracie Ramsay. We've been running dogs for over a decade. In recent years we've stepped out of recreational mushing and have begun to embrace competitive attitudes in both skijoring and team events. We could never have come as far as we have in this sport or this industry if it wasn't for all the people we've met and "hounded" with questions each year on circuit. For those of you who've run into our traveling caravan, we thank you for enriching our lives, lending a hand or sharing time and advice. To each volunteer whose ever been involved with the races we've attended ~ A BIG, BIG Thank You! Without VOLUNTEERS like yourselves, we could not live this life we choose.
Company
CANADOG SUPPLY was born out of a need for great skijor equipment. We started with homemade gear, just like many of you are still using and were provoked into making customized skijor gear for both the beginner and professional racer. Then, with our time spent living in the North, we soon began building custom made harnesses for Iditarod teams, Open North American teams, and some of the best Stage Stop teams out there. This continues to be a large and growing part of our business. Mushers are constantly approaching me to supply new products to match their ideas. Thank you to everyone who's contributed their thoughts or expertise. CANADOG SUPPLY has transformed into an ever growing force in the SLEDDOG SUPPLY INDUSTRY.
What Do We BELIEVE In?
We started our winter journeys with an oversized Siberian named "Barnabus" or Barney. (read about him in the Articles). He seemed to set our lives on track, introducing us to skijoring and from there, all things dog powered. In tribute to his spirit and attitude we dedicate much of our lives to him. Barney and all dogs to follow, taught us some great lessons. We hope you will practice them with us as often as you can!

* Be Patient, Calm and Assertive
*Always Smile at the Ones You Love
*The Present is no place for The Past
* When you sing, do it Loudly!
* If you Really Want Something, never let up!
* Never take Life too seriously
* Stand up for Yourself and your Friends
* Build Confidence in Children
* Always take the time to make New Friends

and our particular favorite,

* Go Boldly Forward, Without Reservation, Towards Whatever it is that Excites You!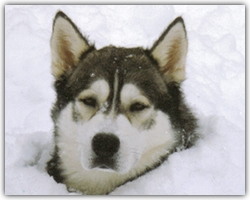 We love this life we've chosen full of dogs and dog powered sports. We only give the best to our yard. Our products are the BEST. If you don't find everything you're looking for today, please do not hesitate to contact us. We welcome your ideas and input for new, innovative custom products.